10,000 ISlands National Wildlife Refuge Tour: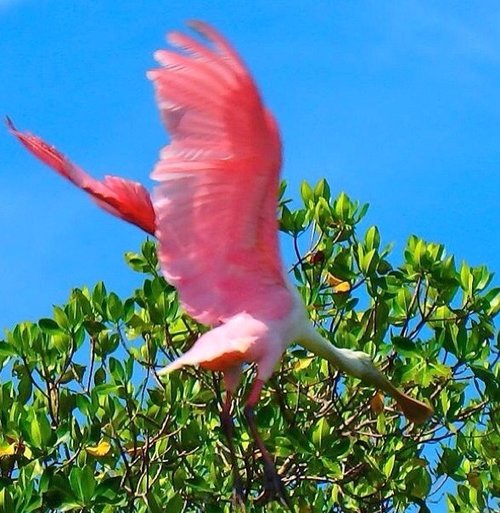 3 hour tour

Explore a Barrier Island

Visit the Cape Romano Dome house

Cover over 25 miles round trip!

Comfortable boat with shade

Swimming & Shelling

12 people on shared tours

Dogs are welcome on private tours
This 3 hour excursion will take you through the mangrove forests and barrier islands that make up the 10,000 Islands National Wildlife Refuge on our custom skiff.
In addition to exploring this coastal ecosystem in search of aquatic wildlife, you will also visit a quiet barrier island only accessible by boat. Once on the beach you will have plenty of time to search for rare shells and swim.
Throughout the trip, you can expect to see Atlantic Bottle-nose Dolphin, the occasional Florida Manatee, and several diverse species of birds, such as pelicans, egrets, herons, kingfishers, eagles, osprey, and roseate spoonbill. Whether you're a visitor to south Florida or a long time resident, this trip is sure to please.
TOUR TIMES:
9:00 AM - 12:00 PM

12:30 PM - 3:30 PM

4:00 PM - 7:00 PM

Seasonal 3 hour Sunset departures available
Tour Rates:
Adult: $70 Online: $59.50

Youth: $45 Online: $38.25
Private Tour Pricing:
Private: Up to 16 People $700 Online: $595.00

Private: Up to 6 People $420 Online: $350

Price is for the whole boat

Includes deluxe swimming noodles and beach toys
Prices do not include taxes or gratuity*
Sunset is an excellent time for wildlife viewing! This "boat only" Adventure will take you through the 10,000 Islands N.W.R in search of wildlife such as dolphin, manatee, and several diverse species of birds. Our captains will also share their knowledge of local history and ecology. We have ice and water on all of our trips and guests are welcome to bring their own food and beverages of choice.
1.5 - 2 hour tour

A comfortable ride through the 10,000 Islands

Visit the Cape Romano Dome house

Stunning sunset views

Dogs welcome on Private Tours
Tour Time:
Departure times vary throughout the season due to changing sunset times

Click "BOOK NOW" to view departure times and make a reservation
Tour Rate:
Adult: $60 Online: $45

Youth: $36 Online: $26.75
Private Tour Rate:
Private: Up to 14 people $640 Online $480

Private: Up to 6 people$387 Online $290

Price is for the whole boat
Prices do not include taxes or gratuity*
740 Palm Point Dr. Goodland, FL 34140.
Getting Here:
The historic fishing village of Goodland is located on the southeast side of Marco Island. To get here, exit San Marco road onto Goodland Drive. Follow the long, curvy road through the mangroves until you come to a fork in the road. At the fork in the road (across from Stans Idle Hour restaurant) veer to the right onto Goodland Drive West. Follow Goodland Drive West to the end of the road until you see the Goodland Boat Park sign on your left. Feel free to park and we will meet you by the flag pole near the front of the building.
Parking:
On site parking is free but sometimes limited during the weekends and peak season. We kindly ask that you car pool or if you have a large party with multiple vehicles that you please try to double park in the large parking spaces otherwise please use the single parking spaces on the far side of the ramp as the others are reserved for vehicles with trailers. We also encourage ride share options such as Lyft and Uber!
Specialty Excursions:
Eco Endeavors offers several unique Specialty Tours allowing both travelers and locals the opportunity to experience the beauty of the natural areas that surround us. These tours are offered as Exclusive Events and will not be offered on a regular basis due to weather, professional crew availability and seasonal restrictions.
Custom Private Boat Charters:
We offer private skippered boat rentals if you have your own destination and excursion length in mind. These trips are led by our expert captains, which allows you to sit back, relax, and enjoy the cruise!
Birthdays

Wedding Groups

Family gatherings

Office parties

Social clubs
Attention!
Tour routes vary depending on tides, weather, and sea conditions. Shelling is best during low-tide, which changes daily. Check our Plan Your Trip page to view short-term weather forecasts and local tide charts. Please feel free to contact us if you are unsure about the best time to schedule your excursion.

Sea conditions vary and can change rapidly. There is always a chance you may experience rough water or get wet. Our Master Captains work hard to ensure you have the best experience possible.

Afternoon thunderstorms are common in the spring and summer. We recommend booking early in your trip to avoid possible weather cancellations.

Online booking available! You can also call or text our reservation line at (239) 877-5902. Thank you!
Give more when you purchase our Eco Endeavors Gift Cards!
Good for ALL Eco Endeavors activities

Valid for 2 years from the date of purchase
Check out what makes Eco Endeavors unique!
Give us a call:
(239) 877-5902